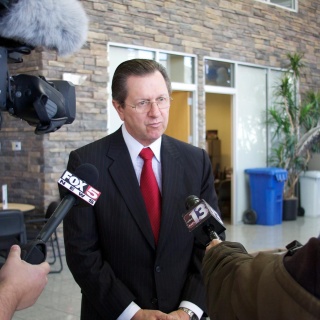 Media Relations Las Vegas
Good media relations are a key ingredient in the structure of what may be considered a "good agency." For years ad agencies have overlooked the importance in building vital long-term relationships with media and management. Having been a large agency operator and media buyer of paid advertising with broadcasting and the print media for over 40 years and having placed close to a half billion dollars in media, The Letizia Agency recognizes that media relations are not just important, they are a necessity.
But Tom Letizia's focus does not stop with his wise and strategic spending of client media dollars, it extends to building those relationships with journalists and media policy makers as well. Tom Letizia has concentrated on the PR side of the business with the same intensity as the advertising side, which has enabled The Letizia Agency to serve clients through all levels of media. Representing issues, campaigns and PR clients requires honest and forthright relations with the media. Tom Letizia has always been pro-active with his media contacts and has advised his clients as such. As Tom Letizia lamented from one of his favorite quotes from Mark Twain, "If you tell the truth, you don't have to remember anything." It is why the Letizia Agency continues to be one of the most respected agencies in Las Vegas.
We've been dealing with media for a number of years and have established some of the best possible relationships with our media partners. The Letizia Agency will negotiate the lowest obtainable media rates that bring the best possible results to our clients.
When you need media attention, you need someone who knows who to call and get the desired results. Tom Letizia has been working with the movers and shakers in the media business since beginning his media career. The Letizia Agency will manage public relations for your company or you personally.