READY FOR THE SILLY SEASON? AKA THE 2018 ELECTION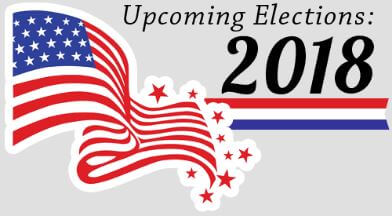 Get ready for the silly season Nevada – Also known as the political season. Still 10 months away from the first votes being cast, Labor Day is a turning point for candidates and incumbents. By the time September rolls around, as summer winds down; the kids get back to school, candidates begin to get serious and start making important moves before the election year officially gets underway. This is the time candidates look to secure important commitments and make vital decisions, that often make the difference of winning and losing, as candidates and incumbents quietly work behind the scenes garnering support, hiring consultants and locking down important financial commitments and supporters.
The season kicks off with our judges when filing begins January 2 and ends January 12. County, state and federal candidates begin filing March 5 and conclude March 16. Unlike conventional candidate's judges cannot raise money until after the filling period, which means they must wait until January 12 to see who they are running against before they can start fundraising – But, smart incumbents are making moves now that will keep potential competitors out of their race.
A great example of scaring off the competition was in the recent Las Vegas Municipal Court judge race this spring, when incumbent Judge Susan Roger got out a month before any of the other candidates or incumbents, with a massive display of signs throughout Las Vegas. Roger also showed potential challengers how serious she was by making a huge deposit in her campaign account. When her campaign disclosure report became public information, this brilliant tactic worked, nobody filed against her. Kudos to veteran Campaign Consultant Dave Thomas. This proved to be an extremely effective maneuver, scaring off challengers and allowing the judge to go unopposed and avoid a tough campaign, forcing would be candidates to select other races. It is likely other judicial candidates and incumbents will be making similar moves this this fall to get a head start before the silly season gets into full gear.
The top 2 races will be the U.S. Senate and Governor races. Incumbent Senator Dean Heller faces Republican primary opponent Danny Tarkanian. Democrat Congresswoman Jackie Rosen will most likely not get an opponent in her Senate bid and can build her war chest to take on the Republican winner. The other big race is the open seat for our next Nevada Governor, where moderate Democrat, Clark County Commission Chair, Steve Sisolak is the only announced candidate so far. Although, progressive Clark County Commissioner Chris Giunchigliani has said she is considering a run against Sisolak, which should make for a wild Democratic primary. Whoever comes out on top in the Democratic primary will most likely face Nevada Attorney General Adam Laxalt, who should be announcing shortly.
So, while things seem relatively calm right now, get ready the silly season is right around the corner.
http://www.thenowreport.vegas/article/uncategorized/ready-silly-season-aka-2018-election/